Our Values
The team of volunteers behind the
Three Rings
project use their professional skills to provide one of the leading volunteer management systems available to
charities, community groups and not-for-profit organisations
. We believe social enterprise should be able to use enterprise-level management software at a cost that doesn't break the bank.
At Three Rings, we're guided by four core values: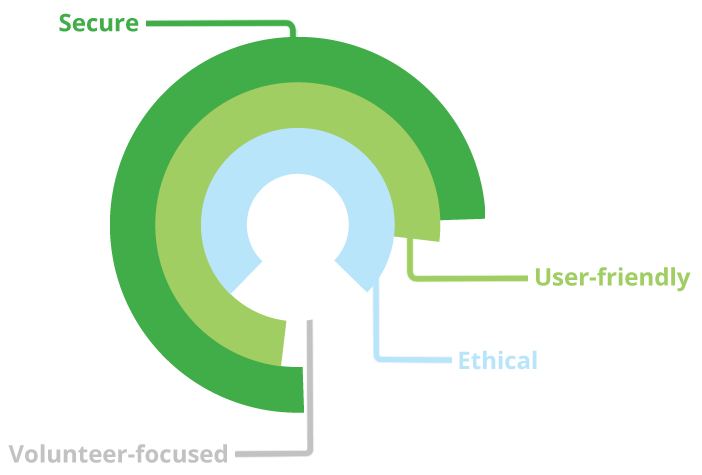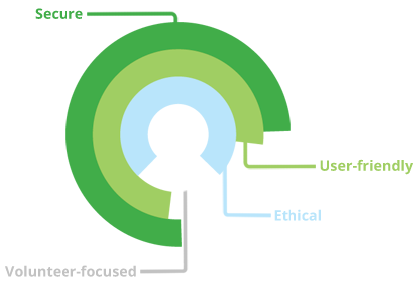 Secure
Everyone at Three Rings is, or has been, a volunteer at one of the organisations using the system. We've got a background in emotional support and we know just how important confidentiality and trust are for many of our users. That's why we've taken the security of Three Rings incredibly seriously.
Whether it's who's on shift, a volunteer's phone number or an internal policy document, none of the data on Three Rings is ever sent to your computer unencrypted (so it can't be read along the way). We make hourly backups of all the data on Three Rings, and an "off site" backup happens every day (so even if the city the Three Rings server is in gets wiped off the map, we can get the system back online with data less than a day old!) and we have policies in place to prevent unauthorised access to your account (for example, we'll never re-set a "forgotten" password ourselves when it can be done within your organisation).
If you're interested, you can read lots more about how we keep Three Rings secure on our documentation website.
User-friendly
We've worked hard to make sure Three Rings can be used by everyone, whether they're a lifelong computer fan or if they've never touched a keyboard before. We know there are volunteers out there that have never touched a computer before, and we believe they shouldn't feel pushed away from volunteering because of bad web design.
Three Rings is designed to be clear and simple to use. If you get stuck you can check our documentation or get help from one of the support people at your organisation, and if they get stuck, they can get help from us at Three Rings: we aim to answer all support emails within a maximum of 24 hours, so there's always a chain of support to look after you, to make sure you're getting the most from the system.
Ethical
We believe trust is important. Many of the organisations using Three Rings are charities, and all of them exist because good people give their time and energy for free: if you're using Three Rings at your organisation you deserve to know that we're doing our best for you. It's unusual for anything to go wrong with Three Rings, but if it does, we'll tell you about it, and we'll tell you exactly what we're doing to make things right, through the Three Rings blog.
Being completely honest and transparent even if we've messed something up isn't the easiest way to run a company, but we believe it's the only reasonable way when the company exists to support volunteers.
Volunteer-focused
We're passionate about volunteers. Everyone at Three Rings has been a volunteer themselves, and we're driven by volunteer effort ourselves: we know from experience what a huge difference volunteers can make in the world. We believe in bringing volunteers together, helping them to communicate and building that vital "family feeling" within their organisations.
When we develop new features for Three Rings we think about how much help they'll be for our users, and we make sure to put volunteers at the centre of everything we do. So, if you've got any suggestions about how we could make Three Rings better for you and your volunteers, please tell us!