The History of Three Rings
Since 2002, Three Rings has worked to support volunteer and community enterprises, and we aim to do that by delivering professional enterprise software at affordable prices. That's important to us not just because we're all volunteers ourselves, but also because many of our longest-serving team members started their volunteering careers in organisations that had very low budgets (not just "low" in general, but often "low, even among that type of organisation").
Back in 2002, we knew two things about Three Rings: firstly, it was an incredibly powerful tool that could make it significantly easier to run a voluntary organisation, and secondly, the organisations we worked with would benefit from it most – and we could stop using pens and paper!
Early Innovation and Adoption

Three Rings weren't the only people working on the problem of efficient volunteer management back then – 2002 was a busy time for online rotas, and another system, NIRIS, was doing some very similar work, based on the needs of Sheffield Nightline.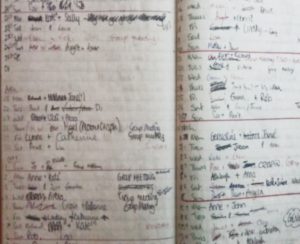 Back then, Aberystwyth Nightline didn't have a huge budget. The idea of putting the rota online was very exciting (the paper rota in those days was at the top of a pretty steep hill!) but the sad reality was that the annual cost of NIRIS was far, far more than the annual budget of the entire organisation.
It was a big disappointment for a lot of Nightlines, but it proved there was a genuine demand for volunteers to be able to manage their shifts online, as long as it could be made affordable – we weren't the only ones tired of the old-fashioned "sign up book" after all!
And as it happened, one of the Nightliners in Aberystwyth – Dan – had already had an idea that could help those other volunteers…
The core of our philosophy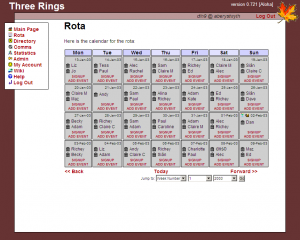 That early disappointment – the feeling of regret at finding something that could really make it easier for our volunteers to do what they do best, only to find they can't afford it – stuck with us, and helped cement our belief that professional software for third sector organisations shouldn't force charities to choose between effective volunteer management and essential upkeep and publicity.
We're not kidding when we say we're genuinely passionate about what we do here: for the next 7 years, we funded Three Rings out of our own pockets.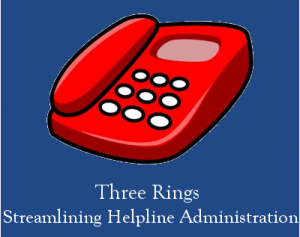 Even when Three Rings began to expand to help people working for more and more organisations, we kept our belief that quality software can be affordable right at the heart of what we do. Our growth meant it wasn't possible to keep funding Three Rings by ourselves anymore, but we made sure to use proven, scalable, open-source technologies to power the system and avoid any situations where we'd be forced to pass unnecessary costs on to our users.
That's how, in 2009, Three Rings Limited came to be formed, so that we could begin to sell Three Rings – at the lowest prices we could manage – to more and more organisations, starting out with three pilot Samaritans branches in Wales.
Conversion to a CIC
It's also why – as part of our 10th anniversary celebrations in 2012, Three Rings Ltd was converted into a Community Interest Company, and we became a formal not-for-profit as Three Rings CIC.
Under this arrangement, 75% of our annual profits are re-invested in the company, 5% are given to open-source projects (in recognition of our debt to the Open Source community which creates many of the trusted, powerful tools and languages that make Three Rings such a stable and affordable choice for so many organisations around the world), and 20% are given to charities reflects and re-affirms our commitment to supporting the work of volunteers and charities.
But, even if our core mission has stayed the same – delivering the best possible software to worthy causes as cheaply as possible –Three Rings itself is always evolving.

Back when Three Rings was only helping a handful of Nightlines – back in what we now call the 'Jukebox Class' of releases, we released a new version of the system two or three times a year, in line with the University holidays.
We maintained that schedule through the early years of the Elemental Class, but as the range of organisations we supported kept growing, and Samaritans, refuges, and community centres began to use Three Rings to for their Rota and Volunteer management, mapping releases to University terms made less and less sense.
So, after Milestone: Krypton was released in June 2013 we moved to a fixed release schedule of four updates per year – roughly one per season, with each 'winter' release designed to focus more on maintenance than on new features.
Because Three Rings is an online service, there's never anything for our users to install – all of that happens at our end, and everyone gets the new features immediately after the release is complete: users can just log in to find the system's been upgraded (although we recommend you read the system news message that pops up so you know what's changed!).
Where we've come from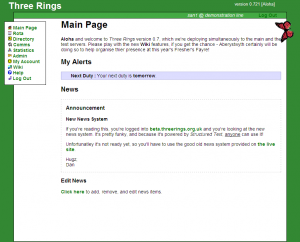 For us, it's also quite nice to look back on where Three Rings used to be.
The challenge to make Three Rings suit the operational needs of such varied clients across the third sector is part of what makes volunteering with Three Rings so rewarding, but back then we thought we'd support around 40 people at one organisation – which explains some early designs that now seem totally bizarre: like only having a single rota, with a single shift per day, and a maximum of two slots for volunteers to sign up!
As the oldest volunteer management system of our type, we're proud of how Three Rings has evolved over the years – particularly since most of the changes we've introduced have been suggestions or requests from our users! We're always happy for you to get in touch with a feature suggestion for the future.
Want to be part of our future?
We're always looking out for more volunteers to join our friendly team!
There are a variety of different ways to volunteer with us – check out our Join the team page. Or, send us an email and we'll arrange a chat!