The biggest change you can expect to see when Milestone: Yttrium goes live on November 19th is the introduction of something we've been calling Groups.
Groups is the next plank of our commitment to support End-to-End volunteering, following on from the development of Individual Accounts, and Core Roles. Essentially, its an expansion of core roles which means that for the very first time you can now have some Core Roles which are invisible to other Roles.
As a concept, this is pretty straightforward – for many organisations using Three Rings, you probably already have some volunteers whose role means they don't get to see everything that goes on. At many Helplines, for example, new volunteers undergoing training aren't introduced to everybody right away: they probably know other trainees, and your Training Team, but they won't be introduced to every other volunteer.
Groups means you can now set Three Rings up so that it works the same way, if you've got multiple Core Roles (and remember – you don't have to have multiple Core Roles! You need to have at least one, but if that single core role works for your organisation, you can keep on using it on it's own without any trouble).
If your organisation has more than one Core Role, Milestone: Yttrium is going to give you extra tools: you'll now be able to say which Core Roles can View or Manage other Core Roles.
Let's look at a fictional organisation that's already making use of Core Roles in their Three Rings account. Right now, Linminster Linkline has three Core Roles: Everyone, Support Volunteer, and Trainee. They also have a few regular roles: Listening Volunteer, Rota Manager, Training Team, and Administrator.
Their three Core Roles reflect the different major duties of their volunteers: Trainees are just starting their journey to be Listening Volunteers, volunteers with the Support Core Role help keep the building tidy, maintain the garden, and organise fundraising. Everybody else runs the actual Helpline, either as a Listener, part of the Training Team, or as a Manager or Admin.
Here's a diagram to show those roles mapped out – note that, while the Trainee and Support Volunteer Core Roles are separate, the Roles 'Listening Volunteer, Rota Manager, Training Team, and Administrator' all fall under the default 'Everyone' Core Role – it's never been necessary for anyone at Linminster to separate them out with any more than three Core Roles.

Although the Core Roles bring a different basic set of Permissions, there's still limits to what they can do. At Linminster, any volunteer with the Core Role "Everyone" automatically gets permission to View the Rota, which doesn't apply to either of the other two Core Roles. But, even though a Support Volunteer isn't granted permission to View the Rota, they can still see everyone in the Directory.
That's necessary, because Support Volunteers need to know who their fellow Support Volunteers are… but it's also not perfect, because the policy at Linminster is that you shouldn't know who's a Listening Volunteer unless you've completed your Listener Training, and Support Volunteers haven't (and, often, don't want to!).
On top of that, the Admins at Linminster are concerned, because while they really want to get new trainees onto Three Rings as soon as possible, they're also not meant to see who's a Listening Volunteer until they've successfully completed their Training. The solution to that is a bit better than it is for Support Volunteers, at least: the Trainee Core Role doesn't grant Directory View permissions. So a volunteer with the New Trainee Role can log into Three Rings, but they don't have permission to View the Directory… even though everyone else can see them. And that's a bit unfair, too.
Let's map out the situation again, using red shading to indicate when a Role is visible to people who – according to policy at Linminster – shouldn't be able to see it: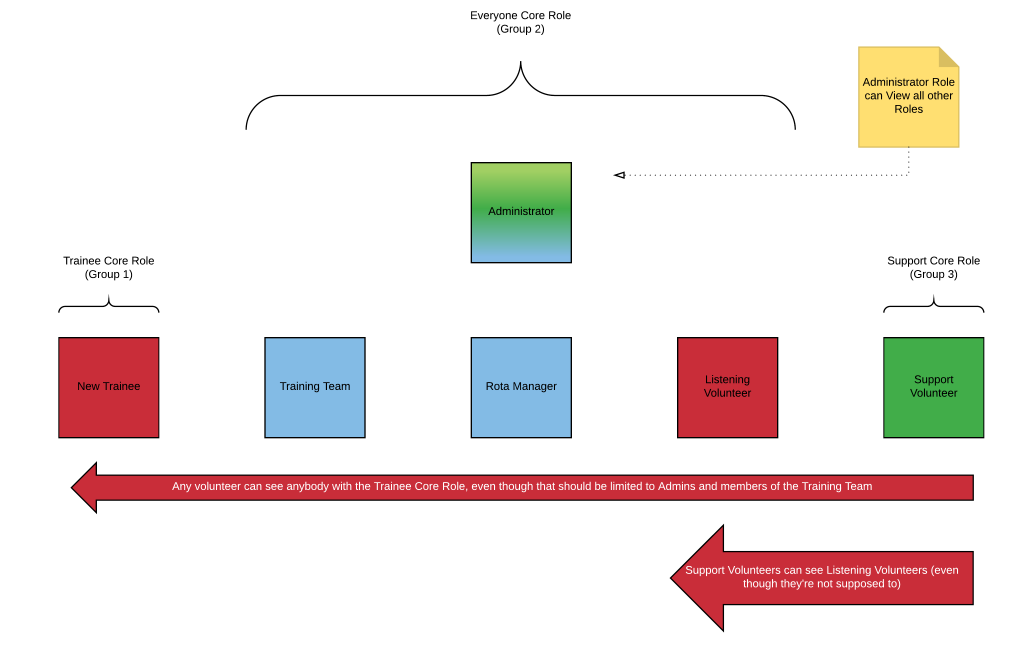 That's a lot more red than we'd like to see!
Now, it's true that this is a slightly artificial example – the vast majority of organisations that are benefiting from Three Rings don't have such a 'silo' approach to volunteer management! But there are some organisations, just like the fictional Linminster Linkline, which have legitimate reasons for wanting to keep their different Roles separate from one another. Whether that's for security reasons, or because they want to keep their former volunteers informed through Three Rings, or whether it's because they want to get trainees onto Three Rings as soon as possible – it's something we need to do more to support. Because, as the example of Linminster Linkline shows, there are cases out there where the limits of Core Roles mean Three Rings isn't properly reflecting the way those organisations work, and that's something we always want to fix.
That's where 'Groups' comes in.
Because, once Milestone: Yttrium goes live on November 19th, Linminster Linkline can make some improvements.
Now, they can say that Admins can see absolutely everyone, but only Admins, or members of the Training Team can see New Volunteers. And they can say that volunteers with the Support Core Role can only see each other (even though Admins will also be able to see them).
Let's see an updated version of the diagram we saw before, showing how Linminster Linkline's Roles and View permissions can work after Milestone: Yttrium introduces the improved 'Group' controls over Core Role visibility: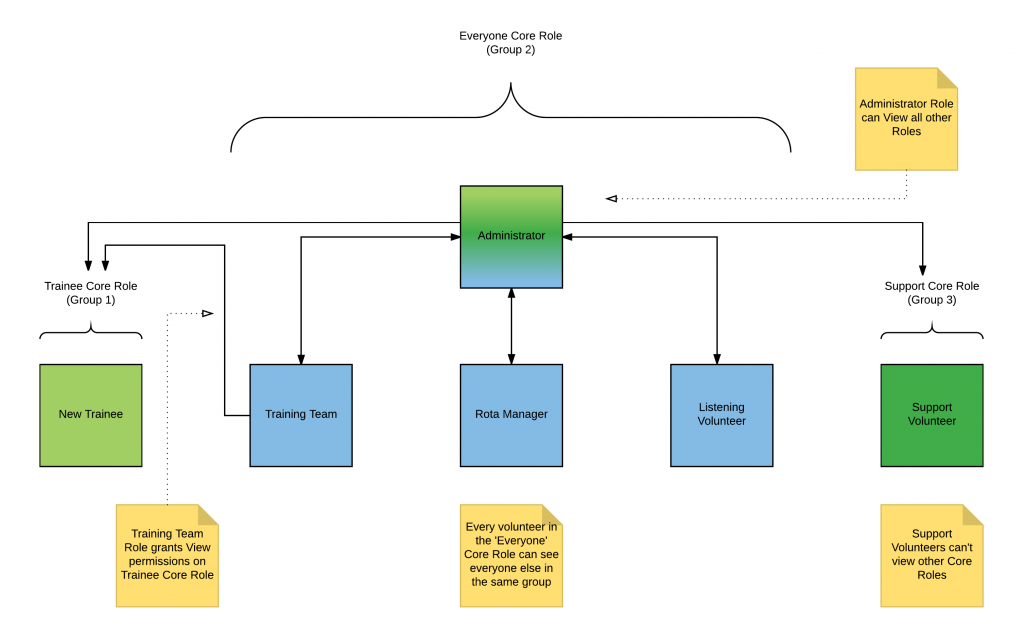 This time – no red! And that means no more awkward clashes between what Three Rings can do, and what Linminster Linkline need it to do, if it's going to properly match the way they work. That's a massive step forward.
As we said, though, the way Linminster Linkline works is a bit unusual. There are organisations using Three Rings in exactly that way, so the development of Groups is great news for them.
There are also organisations whose policies don't demand as much separation of teams as Linminster Linkline, but who do still want to keep some users on Three Rings 'fenced off' from the majority of their volunteers. In particular, there are organisations out there who want to keep in touch with former volunteers using Three Rings, but who can't expose current volunteers' data to them. In fact, this is common enough that we've got several organisations paying for two Three Rings accounts (albeit with a heavy discount on the Alumni account).
Groups means they don't have to do that any more! Instead, they can set up a Core Role for their former volunteers, and use the new feature to isolate it from their other Core Roles – imagine the 'Support Volunteers' group at Linminster Linkline, but for "Former Volunteers" instead – as long as the former volunteers were happy to have their login credentials kept open, Admins, or Alumni Officers could store their details on Three Rings, and keep them updated about goings-on in the organisation, or major fundraising events they needed help with.
In fact, if you cast your mind back, that was a major goal of ours when we announced our plan to introduce End-to-End Volunteering. Here's the graphic we used to show where we were, and where we wanted to be:

Since then, we've had some major breakthroughs. Milestone Promethium converted that last step to a yellow "Off 3R?" in July 2014, because the introduction of Individual Accounts meant that leaving an organisation didn't mean the end to a volunteer's Three Rings account. If they wanted, they could take their personal account with them, ready to have it linked in by the next organisation they volunteered with.
Milestone: Strontium flipped the second step to green in April 2015 when it introduced Core Roles – making it possible to assign different sets of permissions to different types of volunteers (as long as you were happy with the broad-brush visibility permissions).
Now, Milestone: Yttrium is introducing 'group' visibility. Some Core Roles can be hidden from other roles based on your organisation's permission settings. That turns that last step to full green: a volunteer who's left can have their account changed to what, in 2012, we called 'Alumni' status – essentially, a limited-visibility Core Role for volunteers who want to stay in the loop. And, at the same time, Yttrium is turning the first step yellow: once a volunteer's applied to train with your organisation, you now have the option to open a Three Rings account for them right away, using Core Roles to limit who else can see it, and which other volunteers they can see.
Which brings our roadmap of End-to-End Volunteering to here: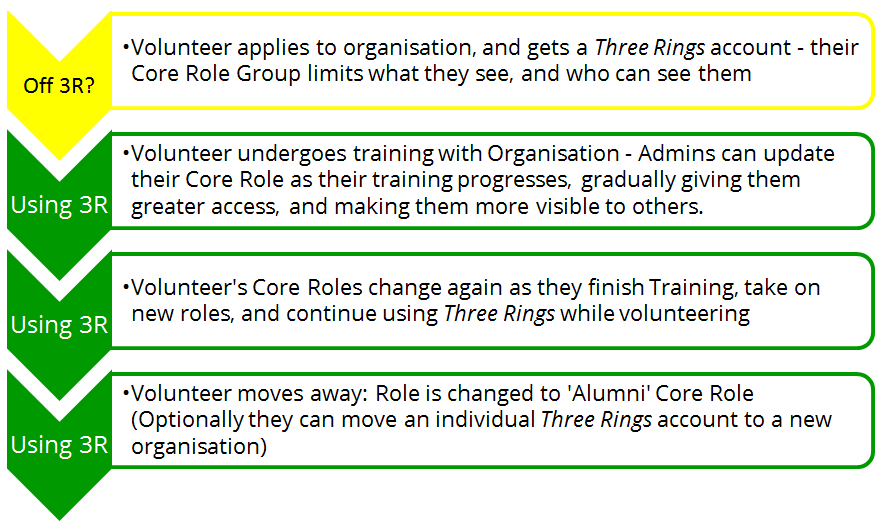 And that's very exciting.
Because in 2017, we're hoping our journey to support End-to-End volunteering will be complete.
As it is now, 'Groups' supports a good number of ways of working, but we're not done yet. Next year we're planning to use this to expand Three Rings even further – making it possible for potential volunteers to apply to join your organisation through Three Rings, allowing you to manage their application progress from within the system. It's one of the biggest organisational headaches that Three Rings can't yet cope with, but we're working hard to fix that, and bring that managerial overhead down.
In the meantime, if you're volunteering at an organisation which has been paying for a second 'Alumni' account, you need to get in touch with us – once Milestone: Yttrium goes live, we can save you the cost of that subscription fee!